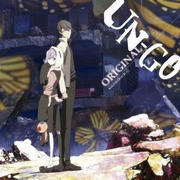 Un-Go Original Soundtrack
is the soundtrack album containing the background music of
Un-Go
.
Tracklist
Edit
How to Go -Anime Edit-
Beast (獣)
Counter (回)
Feeling (念)
Excess (過)
Truth (真)
Valhalla Maiden Hill (ヴァルハラ乙女が丘)
Deity (神)
Pleasure (興)
Sky (空)
Persistent (不屈なれ)
Light (光)
Murder (殺)
Anger (怒)
Sacrifice (犠)
Beautiful dreamer
Exposure (暴)
Wave (飄)
Fantasy (TV version)
External Links
Edit
Ad blocker interference detected!
Wikia is a free-to-use site that makes money from advertising. We have a modified experience for viewers using ad blockers

Wikia is not accessible if you've made further modifications. Remove the custom ad blocker rule(s) and the page will load as expected.